RKSK – the evil genius of Govt. of India & UNFP
09 Nov, 2017 By Uyirkkural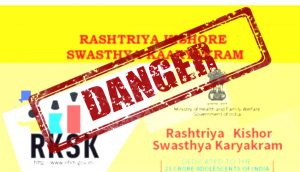 Rashtriya Kishor Swasthya Karyakram (RKSK) is the program launched by Ministry of health Government of India for adolescent's age 10-19 years. The program highlights are sex education, unlimited sexual exploration, free contraception and abortion access for children as young as 10 years of age without the consent of parents.
This program was launched in 2014 as a part of Ministry of Health and Family Welfare with UNFPA to focus on Adolescent health and wellbeing. India is the second largest country next to China and home to world's largest adolescent population of 243 million. This, is a good news for a few but a doom for several others.
Why do they see this as a problem?
The first reason is the demographic winter of European countries. With low fertility rate and calamitous sub- replacement fertility levels they are 'dying nations'. They do not have enough people to reproduce and replace themselves. As a result of this Nations shrink, cultures die, immigration crisis takes over as new form of expanding boundaries.
Ever since the developed nations took notice of the growing population in developing countries, fear has creeped in to take measures far more malevolent like genocide. Similar fear has been expressed with the influx of foreign aids into India and Africa most part of which is spent on 'Population Control' rebranded as 'Reproductive Rights'.
There has been incredible international pressure to reduce India's population since 1950's. Infamous sterilization camps, unconsented vasectomies and pill experimentations are part of the gruesome population control campaigns which was funded by US, UK and other developed nations. The RKSK is the continuation of one such profanity and assault on our country as a follow up of the FP2020 agenda.
How RKSK works?
The key priorities of RKSK include Sexual and Reproductive health, mental health, injuries, Substance abuse, Gender Violence, Nutrition and Non communicable diseases. The program is implemented along with other RMNCH (Reproductive, maternal, Neonatal and child health) programs of Ministry of Health using community based public health delivery systems where adolescents can procure services with or without parents. Each center will have a counselor, health personnel, community health worker / ASHA and a trained peer educator who is responsible for referring their friends to these centers. The program has certain benefits like  promoting menstrual hygiene, iron supplement distribution etc but, there's something under the rug that people need to know.
Why RKSK is an assault on India?
RKSK breaks families. The mere establishment of 'Adolescent friendly clinic' is a design to distance children from their parents. Changing the norms around parent child relationship and imposing false ideas that adolescents are better off with their peer group and can make decisions on their own. RKSK aims to bring 'state' or the health care provider between parents and children, underplaying the natural rights of parents and maximizing the role of third party in the decision making process. For eg. a 10 year old will be able to demand contraception or abortion without parental consent and the state will override in deciding what should happen to our children. This is the dangerous trend RKSK wishes to bring through this program.
RKSK aims to sexualize our kids. The age of consent for sex in India is 18 which is a strong legal protection for children especially the girl child against sexual offences including child marriage. But RKSK's introduction of contraception for children below 18 is contradictory to this protective measure. Children have the right to be children and enjoy their childhood.  . Sex ed and contraception will not protect kids from sex abuse or teen pregnancy. With the existing struggle to combat child marriage and sexual abuse RKSK is paradoxical in creating safe space for pedophiles and opportunities for increased sexual exploitation.
RKSK targets SC/STs. This can be a strong accusation. However the reason behind this is not only the denial of Abstinence education and fertility awareness methods (FAM) to promote adolescent health by the Government but also because of the uneven resource allocation and caste based targeting of communities. 'Sashakt' is one such program(2015-present) run by Pathfinder in Bihar for Mahadalit community which was funded by Packard foundation. The project has distributed 4339 condoms, 944 pills referred 205 women for sterilization and 208 women for IUD.

RKSK is just another population control campaign with new strategy

: RKSK aims to reduce fertility for achieving the FP2020 goals – the new tactic of Gates. This is achieved by flooding the high TFR districts with contraceptives irrespective of needs. Well, if there's no need, they forcefully generate 'demand'. The PRACHAR project of PathFinder is yet another great example which exposes this strategy. Btwn 2001-2013 alone PRACHAR has reached 10 million youth in Bihar through door to door contraception distribution and referrals with the aim of reducing fertile years to reduce population.
Expanding Abortion access for children: If you took time to look at the 'Strategy' of how RKSK will be implemented and Evaluated, you'll be quite shocked to find out the ways Abortion services (Medical abortion & Referral) will be sold to children. While the law of the land is to prevent child marriage and protect children from sexual abuse and exploitation, RKSK is in fact contradictory to the safety of our kids by inflicting contraception as business tool to sell abortion. This is typical of the Planned Parenthood business model which hosts Movie & Pizza party for school kids to provide sex education and condoms so they'll get them back for Abortion services. Since more sex ed means more contraception and more contraception means more abortion.
78% of children below age 3 in India have anemia(NFHS 3) and 50% of adolescents are anemic,47% of the girls in India are married before 18yrs and country still dealing with issues of public safety, rape and gender violence  how can IUD's and pills be the answer to the adolescent wellbeing?
If GOI was acting in real interests of the people and no corruption was involved in the millions of dollars invested by UNFPA and similar organizations why enough efforts wasn't invested in teaching FAM and Abstinence using the same public health delivery system. What is the interest of these groups in promoting sex, condoms and larcs (long acting reversible contraceptive) is a question worth pondering.
RKSK will be celebrated under the guise of distributing folic tablets and sanitary napkins to adolescents to achieve the Sustainable Development Goals, but these services are nothing but attractive gift wrapper which conceals contraception and Abortion. Similar to the 70's family planning campaign where a bag of rice was thrown at the poor as incentive for sterilization. The ugly face of this intervention will be revealed in few decades with increased moral, ethical and spiritual calamity and heavy demographic tax since more than 15 states and union territories in India already have sub replacement fertility.